We've all heard it throughout our entire lives: breakfast is the most important meal of the day. It gives you the energy you need to start your day, so you should try to make the conscious decision to make sure it's healthy and gives you everything you need for a great morning.
But as you get older, you need to make sure you're getting the right nutrients your body needs to stay healthy, and the best place to start is when you start your day. So what should seniors eat for breakfast?
A balanced meal of carbohydrates, proteins, and some fruits or vegetables is the best choice to make sure you get everything you need for a healthy start to the day. A mix of eggs, bread, and fruit is a simple and delicious idea!
Whether you live on your own, with your family, or in assisted living, you can always make sure that your day has a healthy start!
Why Is Breakfast so Important for Seniors?
As you age, your body goes through many different changes, and you adapt accordingly. One of the more common things that occur is settling into a routine—doing things that make your day easier rather than making sure every conscious decision is based on your health. While it might be easier to, say, grab a banana and a coffee and just wait until lunch to focus on meeting your dietary needs, it's always a good idea to slow down a bit and make sure your first meal is a healthy one.
A healthy breakfast makes sure you get the nutrients you need for your body to wake up, and it gives you energy for the day until your next meal. It also helps your metabolism work properly!
It's common for medications to affect a person's appetite, and as you get older, it's common to require more medication. If you find your medication is affecting your diet by causing nausea or a decrease in appetite, you should speak with your doctor to see what options are available. If you live in assisted living or are in respite care, speak with the team around you.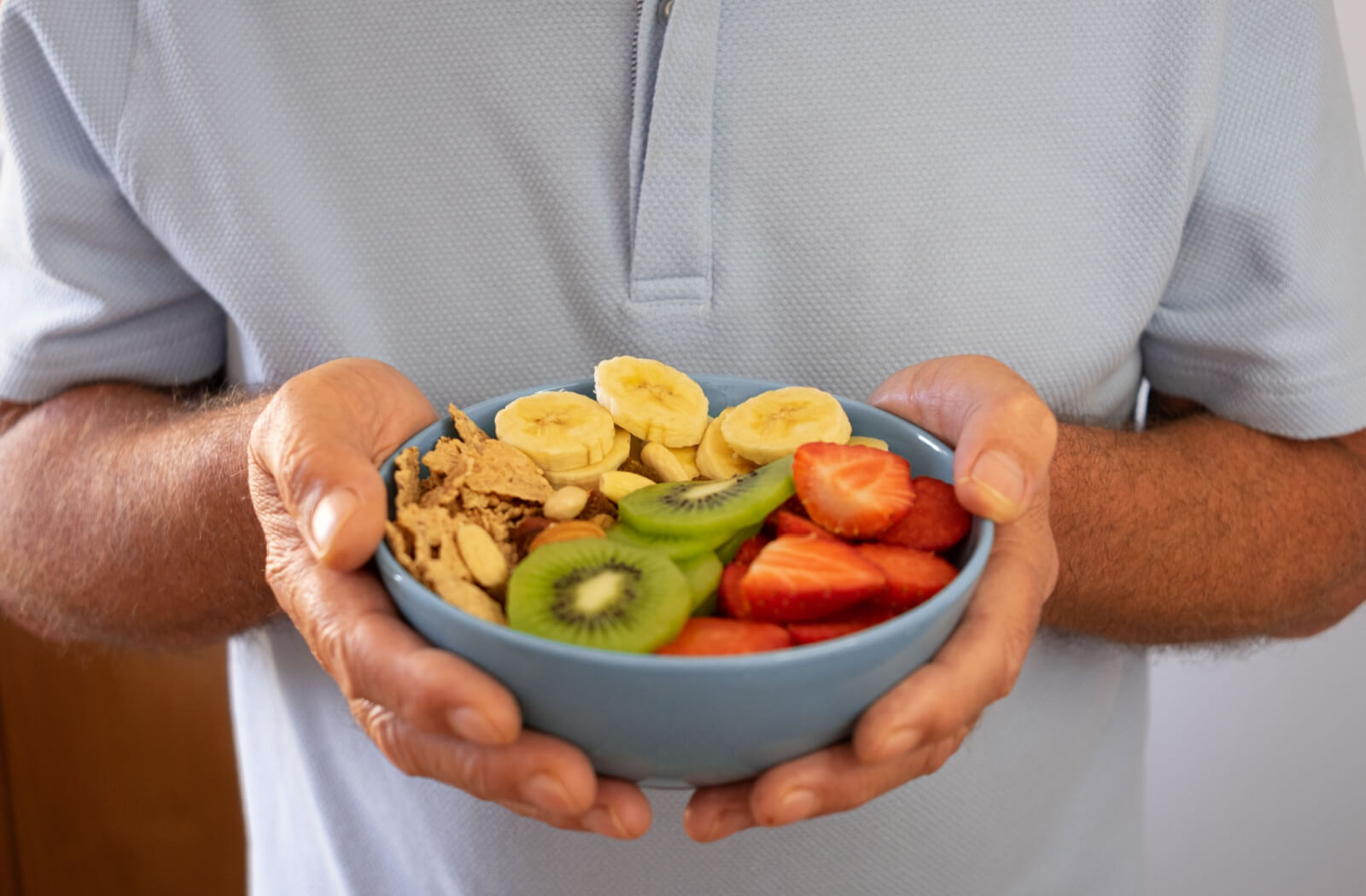 What Healthy Breakfast Options Are Best for Seniors?
There are many options available that aren't just delicious—they're nutritious!
Oatmeal & Berries
One of the easiest options to start your day is to make some oatmeal and toss some berries in. Strawberries, blueberries, raspberries—you can't go wrong with this one. If you've got more of a sweet tooth or want a change, a small sprinkle of brown sugar and cinnamon go a long way!
Toast & Toppings
Grab some toast (whole wheat is one of the healthier options), and throw whatever toppings you want on it! Fresh fruit, scrambled eggs, smashed avocado, or even the classic peanut butter and jelly are all great ways to kick off the day.
Smoothies
A good smoothie can contain all the nutrients and vitamins you need, and they taste great. You can find endless combinations of fresh fruits, vegetables, and juices to find one that you love.
Yogurt & Fixings
A classic and easy option is yogurt, and you can do a lot to make sure it's delicious and filling. Granola and berries are an easy way to make sure you're having a healthy start to the day, or throw in some crushed nuts and drizzle some honey on top!
Homemade Omelets
Though it can be tricky to master the perfect omelet, they're a great choice. There are a ton of different combinations for a delicious omelet.
Spinach and feta
Ham, cheese, and broccoli
Sauteed mushrooms and onions
Bacon and cheese
While it may take a few tries, soon, you can be flipping your omelet like a professional chef. One of the best things about this choice is that you can throw in most leftovers from dinner and save yourself some prep work. Leftover chicken, a salad, or even fish? Toss it in and give it a try!
Eggs, Any Way
Eggs are one of the staples of most breakfast foods. Whether you scramble them, fry them, or want to make them over-easy, you can pretty much make them any way. Throw in some cheese, onion, and mushrooms—there are a ton of choices to make your eggs your way.
Potatoes for Breakfast
It's been claimed before that the potato is the most versatile vegetable, and that very well may be true. There's almost an infinite amount of ways to prepare them, and breakfast is no exception. You could try:
Home fries
Tater tots
Potato patties
Roasted potatoes with peppers
Potato and bacon hash mix
Potato pancakes
Breakfast casserole
With the amount of options available, it's never a bad idea to keep a bag of potatoes on hand. You never know what you might want to try tomorrow morning!
Classic Full Breakfast
If you've got the time and want to start your day full and energized, you can always pull out all the stops. Pancakes, bacon, eggs, toast and jelly, fruits and vegetables—you can take any combination and make them any way you like. But a big breakfast is an excellent way to have fun cooking and make sure you get a little bit of everything—sometimes you have to go big or go home!
Is Breakfast Really That Important?
Breakfast really is one of the most important parts of your day. Starting your day energized and ready to go can make all the difference in the world, and by making sure your first meal is a healthy one, you're taking an active step toward making sure you're starting your day on the right foot.
The options are almost endless when it comes to healthy breakfast choices for seniors. Try any combination from the list above and see what you like! As long as you're making sure you get the right nutrients, you can't go wrong.
Senior Care That Cares
At All American Assisted Living at Coram, we take pride in making sure our residents have access to everything they need for a healthy diet. Through our meal plans and on-site care, we make sure that every person can enjoy a healthy meal and have all the nutrients they need for a great day. Schedule a tour to see for yourself what life is like in our community, or contact us if you have any questions!