When you've decided to move into older adult-focused housing, there are many considerations to make. What sort of community you want, living options, and available amenities all factor into your final decision.
Friends or family may mention 55+ communities or apartments as a potential option for you, but what do they offer, and what should you begin to look for? Continue reading to learn more about what to look for in 55+ apartments.
What Are 55 & Over Apartments?
55+ communities are designed for adults age 55 and older, and the community is planned around this concept. These communities can be apartments or homes, but the idea is the same: create a dedicated space for older adults.
55+ apartments are age-restricted, meaning you can only get a property if you meet the listed age requirement. Depending on the community you live in, adults younger than 55 can live there if someone in the apartment meets the requirements.
There's no need to worry if your spouse is younger than you, but make sure to double-check the community rules. This age restriction typically applies to residents living in the community, so you can feel free to invite your grandchildren over for a visit.
55+ communities are designed for older adults to enjoy themselves with similarly aged people through available amenities, activities, and other socialization options. Each community is different, so you'll need to see what's offered. The right amenities can make the difference when choosing a new place to live.
55+ Apartments Are Not the Same as Assisted Living
If you're looking into 55+ apartments, you've likely heard about other senior living options, like assisted or independent living. While 55+ apartments can seem similar to assisted living, it has a few differences.
Both are suited for the needs of older adults and offer new opportunities for socialization and friendships, an important part of healthy aging. However, assisted living is more care-focused than 55+ apartments.
Assisted living is great for older adults looking for extra support. You can focus on your everyday life with the comfort of knowing you have consistent help. Assisted living provides 24-hour support for anything a resident needs, including:
Cooked meals
Planned activities
Medical services
You have complete independence, but someone is there to help if you need it. 55+ apartments are more lifestyle-focused, bringing people of the same age together, but without the care services assisted living offers.
If you're interested in what 55+ apartments have to offer, what should you look for when making your final decision?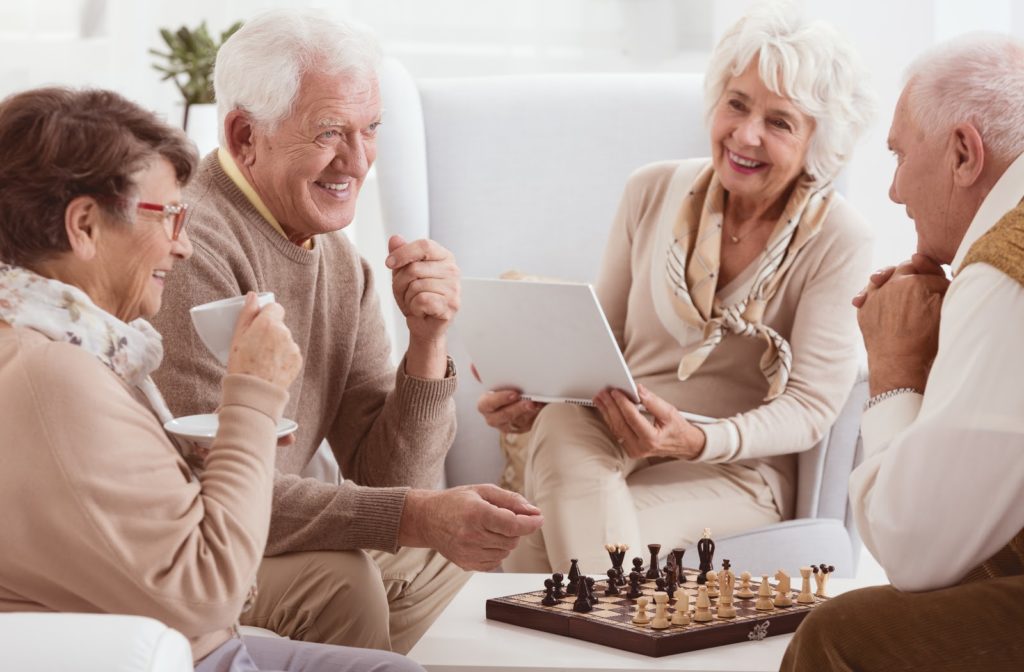 What You Should Look For
Deciding to move out of your old home is difficult, but finding a new place to settle into can seem like an even more daunting task. With so many factors to consider, what should you look for in your ideal community?
When looking for the right 55+ community, consider the following:
A Home To Accommodate Your Needs
How long are you planning to live in your new apartment? If you're looking to stay for a long time, make sure your new home can meet all of your unique needs. Look for an apartment with inclusive design features, such as:
No-step entries
Single-floor living (no stairs)
Wide doors & hallways for wheelchair access
These are only a few options to consider. You never know what can happen in life, so it's never a bad idea to prepare early.
A Community Fitting Your Needs
55+ communities bring people of similar age and interests together, so a top priority should be finding a group of people you can connect with.
When you visit a location, come during the day when people are likely spending time together. You can get a feel for the community and see if you'd enjoy living there.
Amenities You're Interested In
Ask about what activities and amenities are available at the locations you're considering. Some places may have organized activities and social events for you to discover. Others might have several niche communities and clubs for you to join.
Besides communities to join and people to meet, look into the amenities present. If you like to stay active, an onsite gym may be a priority, and some places may have a pool you can relax by. Brainstorm what you're looking to enjoy in your spare time and keep those ideas in mind when choosing your new community.
A Surrounding Area You Can Enjoy & Rely On
Your new community will offer plenty of activities and social time, but you'll likely want to spend some time away eventually. Keeping the surrounding area in mind can help you determine whether or not a 55+ community is for you. The surrounding area can include:
Weather
Available transportation
Food, beverage, & dining options
Sports & recreation
Shopping
Healthcare
Having nearby dining, sports, and other recreation can make getting out of the house a unique experience. You can visit a nearby show, art gallery, or restaurant for a nice evening, but this isn't the only factor to consider. Having nearby healthcare facilities, transportation, and good weather is just as important.
Find Your Ideal Living Situation
Regardless of your decision, you need a home and community to support your unique needs. Look around in your ideal area for 55+ apartments, or if you feel you may need some extra support, consider assisted living opportunities. Remember to contact or book a tour of your local community to have any of your senior living questions answered.